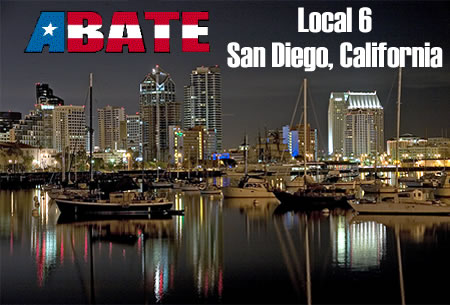 Get Your ABATE of California
Membership Application
Here!

Print-Out & Mail-In, or bring it to a Meeting
.

---
Click Here!

to Join our Confidential E-Mail List
---
Welcome to the ABATE of California
Local 6, San Diego, CA, Website
Representing Southern San Diego County.
We are working hard for all bikers rights and our numbers are strong! We meet the first Sunday of every month at Kate Sessions Park in Pacific Beach. We welcome all riders, members and non-members alike. Of course you are always encouraged to join us in membership, and become part of the effort to keep what we have, and regain what we've lost.

---
Visit the ABATE of California Home Page
---
---
ABATE of California is the leader in a massive grass-roots effort to protect your right to ride safe & free. Occasionally we ask you to have your voice be heard by law makers. As a concerned rider you should Contact Your Legislator. (www.votesmart.org)
---
PLEASE PASS THIS ALONG TO FRIENDS & FAMILY!
ABATE Local 6 has opened an account with San Diego Blood Bank which is accessible to members, and non-members. Now you can donate blood to be used in emergency situations. These donations will be "banked" for future use by ABATE Local 6 members, or ABATE Local 6 recommended uses, for emergency situations. Go to any local San Diego Blood Bank and mention the Code "AL06" when checking in!
For a list of Donor Centers, go here: http://www.sandiegobloodbank.org/donors/donor-centers
---
A merican
B rotherhood
A imed
T owards
E ducation
of California
Local 6

---
Web Administrator
---
Local 6 Mailing Address:
ABATE Local 6 – San Diego
c/o Boozefighters MC
4602 Sauk Ave.
San Diego, CA 92117